Nintendo has released alternative covers for the latest Xenoblade Chronicles installment.
Xenoblade Chronicles 3 is the big release of the moment on Nintendo Switch and its physical sales are doing very well. Nintendo has especially thought of lovers of the physical version by offering them 3 alternative covers to be able to distinguish themselves, even if the basic illustration is very successful (and is the subject of a poster for those who pre-ordered it from Fnac).
This gift is not totally free because you have to go through your My Nintendo and spend 30 platinum points to get them. You retrieve the file and then print them to be able to enjoy them.
Here's a look at the visual: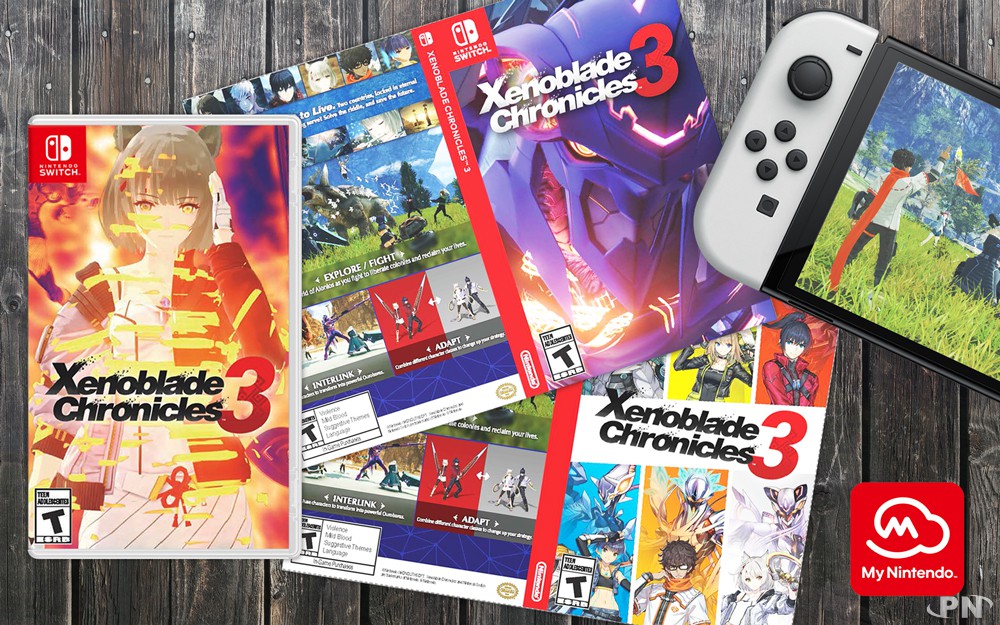 Always pleasant attention from Nintendo, which regularly offers this type of alternative coverage. Which will be your favourite?
The latest from construction work on Super Nintendo World at Universal Studios Hollywood.
Despite the difficulties (covid, heat), work is progressing at Universal Studios Hollywood where the Super Nintendo World should theoretically open its doors in early 2023. New images have been released.
posted
July 31 to discover the latest progress of the work.
It is the entrance to the park which is featured with the construction of the Warp Pipe. There's still a lot to do before adding the little decorative details that fans love, but it's heading in the right direction. The wait is very important for the many Nintendo fans who hope to have easier access to a Super Nintendo World without having to travel to Japan. The Europeans are on the sidelines for the moment but we understand that our continent is not really easy at the moment.
Nintendo has released a new short film for Kirby and the Forgotten World
A little wink to all Kirby fans with this new short film which reminds us that a new heat peak is coming in the next few hours and that Kirby has found a little way to cool off.
星のカービィ ディスカバリー ショートムービー みずふうせんほおばり篇02/08/2022

In London, the Royal Albert Hall honors video game music with a philharmonic concert given this Monday evening at 7:30 p.m.
We are familiar with video game concerts, with events regularly held in various countries. But this time, we are within the framework of the BBC Proms concerts and it was a first: a concert on the evolution of video games was given this Monday at the Royal Albert Hall in London, a legendary venue!

Directed by Robert Ames, the show therefore started at 7:30 p.m. at the Royal Albert Hall and it is quite logical when you listen to the quality of certain soundtracks of certain games. Recall that during the 64th annual Grammy Awards in Las Vegas, the 8-Bit Big Band, which has 194,000 subscribers on YouTube, won the category "Best arrangement, instrumental or a capella" for its magnificent interpretation of "Meta Knight's Revenge" by Kirby Superstar. A great success arranged by Charlie Rosen and Jake Silverman, whose performance you can listen to below:
Meta Knight's Revenge – Fusion Big Band version ft. Button Masher GRAMMY WINNER 202202/08/2022

Last night, the concert event entitled "from 8 bits to infinity" proposed to tell the evolution of video games and therefore of their music. For just under an hour and a half, the musicians went through different well-known repertoires, such as the soundtrack of The Legend of Zelda, for example, or Pokémon. France Info relayed the information of this great premiere by obtaining some comments:
In London, a philharmonic orchestra devotes a concert to video games – the report by Richard Place 02/08/2022

Composer and conductor Robert Ames:
With a video game, players often create their own stories. The music should be composed in such a way that it fits. This offers a lot of space, fantasy and variations.
Composers accustomed to working for orchestras or films are increasingly familiar with video games, he says.
An example was given with Hildur Guðnadóttir, the Icelandic designer to whom we owe the soundtracks for the film Joker (a Golden Globe and an Oscar 3 years ago) and the Chernobyl series, and who composed one of the music main features of the game "Battlefield 2042". The conductor also recalls that many musicians are players and that they regularly leave their instrument at home to take the controller.
No video is yet available to bring some extracts from this evening but Zelda had its little five-minute slot, while Pokémon shared the spotlight with Ecco the Dolphin from SEGA and Secret of Mana from Square Enix in a 10-minute tribute, and we can't wait to see how these three games fit together.
Square Enix was very present during concerts, Final Fantasy made an appearance with the song "Liberi Fatali" by Nobuo Uematsu, taken from Final Fantasy VIII, as well as passages from Kingdom Hearts.
Here is the complete program of the Gaming Proms of this evening "From 8-Bit to Infinity", revealed on the BBC website:
– Matt Rogers, Tim Follin – Loading Chronos (8 minutes) Commissioned by the BBC: world premiere.
– Koji Kondo – The Legend of Zelda (5 mins) arr. Nic Raine
– CHANNELS – Tribute to Pokémon, Ecco and Secret of Mana (10 minutes) Original compositions by Junichi Masuda, Hiroki Kikuta, Spencer Nilsen, Attila Dobos, András Magyari, David Javelosa and Andy Armer.
– Nobuo Uematsu – Final Fantasy VIII: Liberi Fatali (5 mins) arr. Andrew Skeet
– Kow Otani – Shadow of the Colossus – sequel (8 minutes) arr. Tomomichi Takeoka
– Yoko Shimomura, Hikaru Utada – Kingdom Hearts (4 mins) orch. Kaoru Wada
– Austin Wintory – Excerpts from Traveler – A Journey Symphony (15 mins)
– Hildur Guðnadóttir, Sam Slater – Battlefield 2042 Selections (14 mins) arr. Robert Ames; european premiere
– Jessica Curry – Dear Esther/So Let Us Melt – I Have Begun My Ascent; The Leaving (5 mins) arr. Jim Fowler
For a first edition of the Proms dedicated to video game music, it was a good choice and it bodes well for the start of other video game concerts around the world.
.